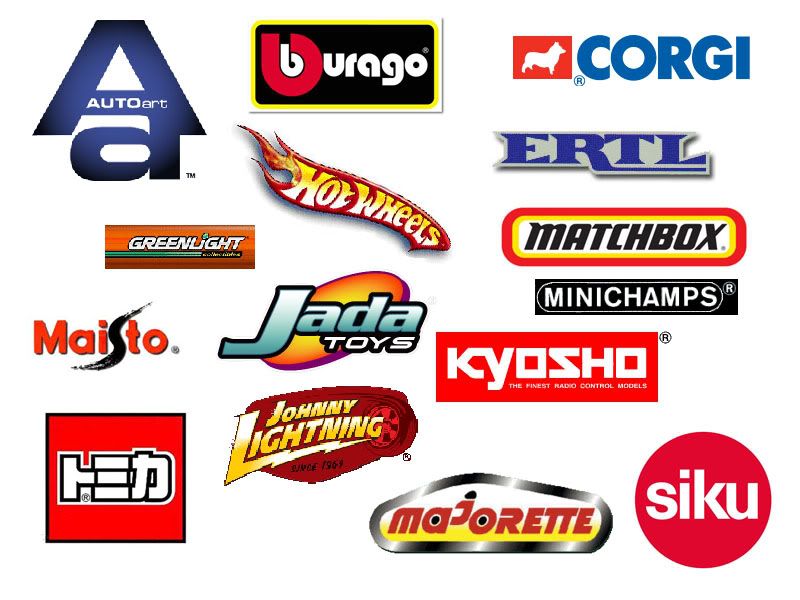 hello there. did you miss my blog? hehehehe. :D


anyways, i made this entry for the reason just to make my presence felt
once again after a long while and after an enjoyment of reading the blogs of friends.
the last time, i promised to make lots of
blogs . but unfortunately, it is only now that i blog again.


so, what should i blog? hmmm...let me think.
ahhh! i was reviewing my excel file of diecast inventory a few
minutes ago. and i came to ponder, they where categorized by scale,
by brand, by car/line, by color...etc.

on this, let me concentrate on brands.
so, what brand/s of diecast do i collect?
for 1:18 scale i got...
1) kyosho
2) auto art
3) minichamps

4) hot wheels
5) maisto
6) burago
when will i have those bbr's and exoto's? i don't know but hopefully soon. :D

and for the small ones...


1) kyosho / kyosho beads
2) matchbox

3) hot wheels

4) welly

5) cararama

6) johnny lightning
7) greenlight

8) tomica
9) siku
10) jada

11) corgi
12) tiger
13) majorette
14) realtoy
15) norev

16) shelby collectibles
17) ertl

18) ixo
19) smart
20) muscle machine
from the second list of brands, i say hot wheels got the bulk of
my collections and matchbox roughly in second as johnny lightning
is also close.


after this, i thought i might take photos of this inventory since
this blog is absent of any photo. ;)


now, how about you? what brand/s of diecast do you collect?
thanks for reading and see you again on my next blog. promise. :D